Al-Haq Welcomes the State of Palestine's Maritime Coordinates of Delimitation and Warns Companies Against Illegal Activities in the Sea off the Coast of Gaza
Al-Haq welcomes the State of Palestine's maritime coordinates of delimitation published on 24th September 2019, defining the baseline of the State of Palestine for maritime delimitation. In accordance with United Nations Convention on the Law of the Sea (UNCLOS) of 1982, which serves as the reference under international law for maritime delimitation, the declaration sets out the maritime boundaries of the State of Palestine for the purposes of establishing its territorial sea, contiguous zone, exclusive economic zone (EEZ) and continental shelf, over which the State of Palestine can exercise various international rights. For example, the territorial sea includes the territorial sea, airspace and bed and subsoil, over which the State of Palestine enjoys rights of permanent sovereignty. In the contiguous zone, the State of Palestine has the right to prevent and penalize violations of international law.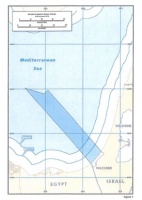 Most importantly, the State of Palestine declared it's EEZ, beyond and adjacent to the territorial sea and measuring up to 200 nautical miles (nm). This declared maritime space accords with Palestine's rights under Article 57 of the United Nations Convention on the Law of the Sea (UNCLOS), which the State of Palestine acceded to 2 January 2015, to delimit the EEZ to distances up to 200 nm from the baseline. The State of Palestine has important sovereign rights in the EZZ under 56 of UNCLOS including:
"sovereign rights for the purpose of exploring and exploiting, conserving and managing the natural resources, whether living or non-living, of the waters superjacent to the seabed and of the seabed and its subsoil, and with regard to other activities for the economic exploitation and exploration of the zone, such as the production of energy from the water, currents and winds".
Al-Haq warns Israeli and international companies that are active in the sea off the coast of Gaza, including companies that are operating pipelines, of their possible complicity in violations of international law, where they proceed to operate without the consent of the State of Palestine and that they may be held liable in international courts. In particular, the Palestinian Minister of Foreign Affairs and Expatriates has informed: 
"all States, companies and institutions to respect the maritime boundaries of the State of Palestine and to review the contracts of their operations, and refrain from carrying out any work or activities within the maritime boundaries of the State of Palestine also reserves its right to compensation for the illegal exploitation of natural resources, as well as any other resources that have been exploited over the years".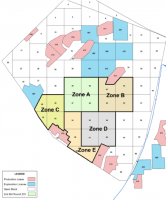 Accordingly, this call includes reference to recent gas exploration licenses that Israel has awarded to international companies for areas of the sea in Palestine's EEZ. In July 2019, Israel in a second bidding round awarded eight exploration licenses to two consortia comprised of British companies SOCO International and Cairn Energy along with Ratio Oil Exploration – and four licenses to a consortium of the British firm, Energean Oil & Gas in partnership with Israel Opportunity. The awarded licenses include areas such as Blocks 45 and 53 in Zone C, which comprise areas of Palestine's EEZ.
 Al-Haq calls on Israel to immediately revoke these exploration licenses and advises companies that they may be held liable for the war crime of pillage, should they continue operations in Palestine's EEZ.
---
[2] A map of the limits of the maritime areas of the State of Palestine
 Eytan Halon[1], "Twelve licenses approved for gas, oil exploration off Israel's coast
'This is another milestone for the discovery and development of additional natural resources in the economic waters of the State of Israel,' said Energy Minister Yuval Steinitz" (30 July 2019), available at: Https://www.Jpost.Com/Jpost-Tech/Twelve-Licenses-Approved-For-Gas-Oil-Exploration-Off-Israels-Coast-597156
Source URL: Read More
The public content above was dynamically discovered – by graded relevancy to this site's keyword domain name. Such discovery was by systematic attempts to filter for "Creative Commons" re-use licensing and/or by Press Release distributions. "Source URL" states the content's owner and/or publisher. When possible, this site references the content above to generate its value-add, the dynamic sentimental analysis below, which allows us to research global sentiments across a multitude of topics related to this site's specific keyword domain name. Additionally, when possible, this site references the content above to provide on-demand (multilingual) translations and/or to power its "Read Article to Me" feature, which reads the content aloud to visitors. Where applicable, this site also auto-generates a "References" section, which appends the content above by listing all mentioned links. Views expressed in the content above are solely those of the author(s). We do not endorse, offer to sell, promote, recommend, or, otherwise, make any statement about the content above. We reference the content above for your "reading" entertainment purposes only. Review "DMCA & Terms", at the bottom of this site, for terms of your access and use as well as for applicable DMCA take-down request.
Acquire this Domain
You can acquire this site's domain name! We have nurtured its online marketing value by systematically curating this site by the domain's relevant keywords. Explore our content network – you can advertise on each or rent vs. buy the domain. Buy@TLDtraders.com | Skype: TLDtraders | +1 (475) BUY-NAME (289 – 6263). Thousands search by this site's exact keyword domain name! Most are sent here because search engines often love the keyword. This domain can be your 24/7 lead generator! If you own it, you could capture a large amount of online traffic for your niche. Stop wasting money on ads. Instead, buy this domain to gain a long-term marketing asset. If you can't afford to buy then you can rent the domain.
About Us
We are Internet Investors, Developers, and Franchisers – operating a content network of several thousand sites while federating 100+ eCommerce and SaaS startups. With our proprietary "inverted incubation" model, we leverage a portfolio of $100M in valued domains to impact online trends, traffic, and transactions. We use robotic process automation, machine learning, and other proprietary approaches to power our content network. Contact us to learn how we can help you with your online marketing and/or site maintenance.